Applies to
All fiber optic power meters
Problem
When measuring Absolute Power in dBm or milliwatt, you observe a small measurement error. This could be observed in a laboratory or manufacturing environment.
Troubleshooting steps
Possible Cause 1: Incorrect FOA type is being used.
Proposed Solution:
FOA = Fiber Optic Adapter and is the part screwed on to the power meter detector receptacle.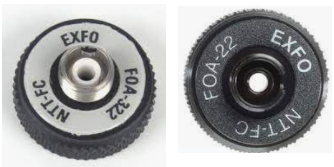 FOA-3XX series should be used in lab power meters, and FOA-XX should be used on field power meters.

PX1 has a different type of adapter called FOAS.

Possible Cause 2: The light source type may be inappropriate.
Proposed Solution:
EXFO power meters are calibrated with narrow band laser sources.

When using other source types ( LED, Fabry Perot, other) small variations are normal.
Possible Cause 3:The wavelength is not selected correctly.
Proposed Solution:
Sometimes light sources have nominal wavelength, but the true wavelength is different.

For accurate measurements, it is best to measure the wavelength of the source, and set the power meter as close as possible to the same wavelength.
Possible Cause 4: There is dirt or contamination in the optical path.
Proposed Solution:
Inspecting and cleaning the FOA, the fiber end-face, and the detector window will help eliminate this possible source of error.
Possible Cause 5: The warm up period is not completed.
Proposed Solution:
To achieve full performance, some lab power meters require a warm-up and/or temperature stabilization period.
Possible Cause 6: A Calibration or Repair may be required.
Proposed Solution:
If on inspection, you observe that the detector window is scratched or otherwise damaged, a repair is required. On most power meters this part can be replaced. Please request an RMA for repair.

Your power meter may require a calibration. Please request an RMA for calibration.