Applies to
MAX-700B series, MAX-700C series, MAX-900 Series, MAX-5205, MAX-FIP
Question
Can I connect the MaxTester to a 5 GHz WIFI network?
Answer
The MaxTester will connect to both 2.4GHz and 5 GHz WIFI network channels following a software update in system image 2.27 - this improved the WIFI driver that the unit uses and allows access to both the 2.4Ghz and 5Ghz WIFI bands.
If you are unsure what the channel number is and frequency band in your environment, you can use a WIFI analyzer application (free for download on Google Play or Apple Store) to scan available channels.
Also on the Maxtester you can check the channel number of a specific WIFI connection as shown below.
1. Go to "Configuration/Devices and Utilities/Wi-Fi Configuration"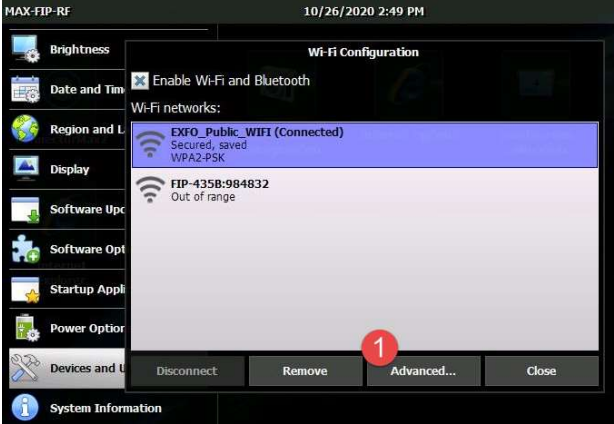 2. Select a Wi-Fi network then click "Advanced" (1).
3. In "Summit Client Utility" window select the "Diags" tab (2).
4. Click on the "Diagnostics" button (3).
5. The channel number is displayed near the top (4), in this case Channel 11.

6. Channels in the 2.4 GHz band are numbered up to 11.
7. Channels in the 5 GHz band will be numbered as 36 or higher.