Applies to
FTB-1V2, FTB-1V2 PRO, FTB-2, FTB-2 PRO, FTB-4, MAX-800 series, LTB-1, LTB-2, LTB-8, LTB-12
Introduction
Recent EXFO platforms are delivered with EXFO Software Update (ESU) utility pre-installed. When connected to a network with external access, ESU allows you to quickly;
Check for new software
Selectively download the latest versions
Install the downloaded software.
If ESU is installed on your unit, you will see the icon below on the unit Home Screen.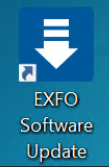 However, some platforms already in the field and/or have been otherwise modified, may not have ESU installed.
The procedure that follows explains how to download, install and use ESU.
Procedure to follow
Before starting
Ensure the unit is connected to an AC outlet during the procedure.

Ensure the unit is connected to the Internet.
Important note regarding Windows updates
The ESU requires a connection to an external network (Internet). If it has been a long time since your platform has been
connected to an external network, there may be many Microsoft Windows updates pending. Some Windows updates
can take several hours to install. If you want to avoid these updates or perform them at a time appropriate for you
(recommended), we suggest to set the Windows Update Settings to "Manual".
2. Run the downloaded auto-extract file (EXFO Software Update 5.7.exe) extracting to a folder on your EXFO platform's desktop.
3. Open the folder and run (double-click) the setup launcher file (EXFO Software Update 5.7.22035.1.exe).
NOTE: the versions above are for example only, you may find a more recent version.
4. Tap "Yes" allowing the application to make changes to your platform.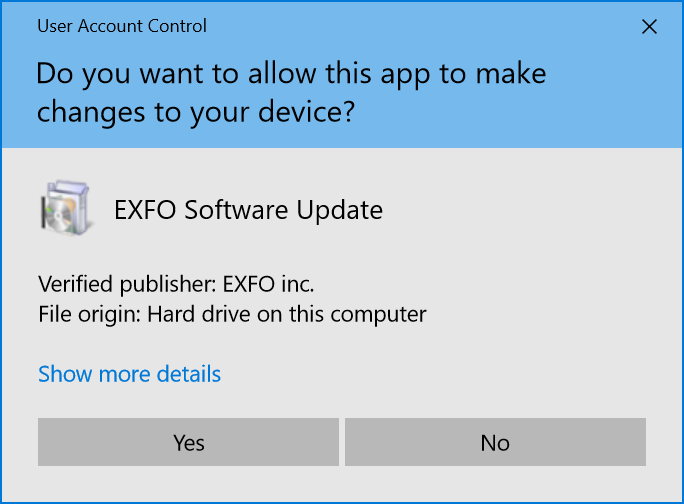 5. Click "Next", accept the license agreement, and click "Next" once again.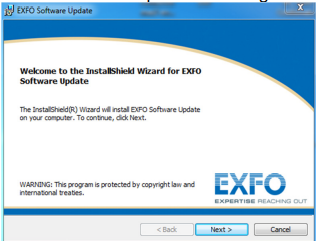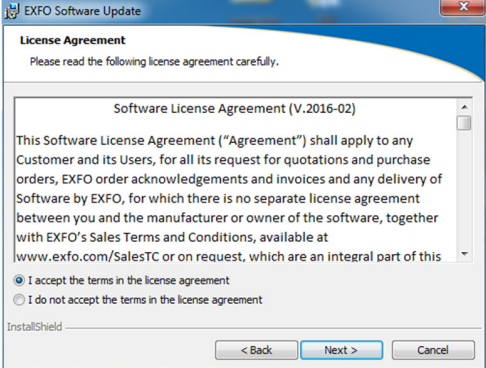 6. Once installed, an EXFO Software Update shortcut will appear on the desktop and the Update Manager shortcut will disappear at the same time.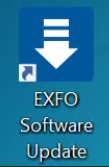 7. The ESU installation is now complete.
Procedure to update software using ESU
1. Connect your EXFO platform to a network with external access.
2. In the ESU application click "Check for Updates".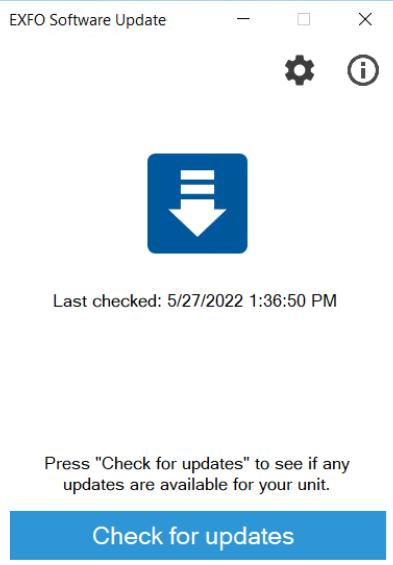 3. If updates are available you will see screen similar to below.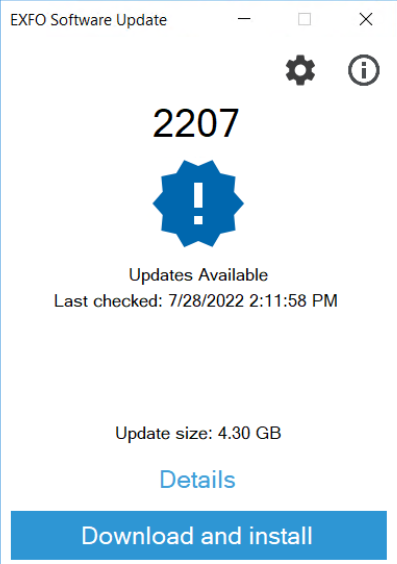 4. If you want to install all updates, select "Download and Install"
5. If you want to install specific updates, or want to see which updates are available, select "Details", select the desired applications, and then select "Download and Install".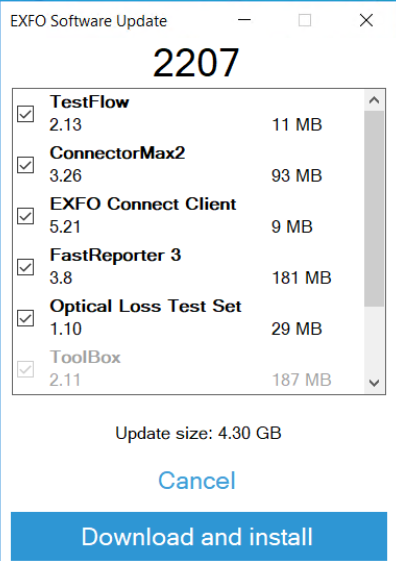 6. While downloading/updating you will see the status and progress.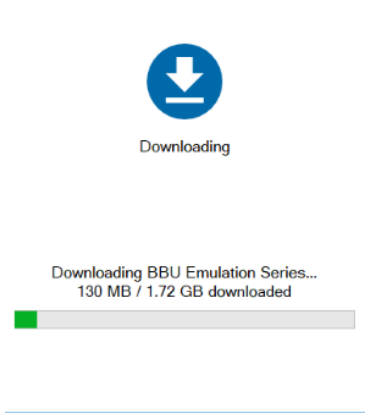 7. When complete, the updated software will be available for use.