Applies to
MAX-700B series, MAX-700C series, MAX-FIP, MAX-900 series, MAX-5205
Introduction
This procedure will explain how to use the FTP application on the MAX Tester
Procedure to follow
Note: the user computer and MAX Optical tester must be connected to the same network. The user computer should not be connected through a VPN.
1. From the Homescreen of the MAX optical tester select the FTP icon
2. Tap Start Server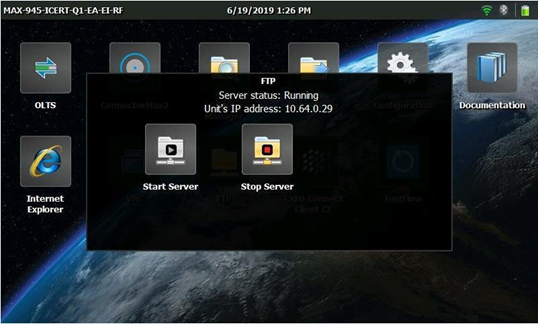 3.Open the Windows Explorer on you computer and type FTP://IPaddress where the IP address is the MAX Optical's IP address as displayed on the FTP application. (Note: an FTP client or Browser with FTP support may also be used.)
4. You will then have access to you MAX Optical unit's file directory:

5. Once you have completed the required file transfer you can then select Stop Server in the FTP icon to end the session.