Problem
The EX1 displays an Incompatibility Detected error message after the Bluetooth connection is enabled. This may happen when connecting to a mobile device as part of the software update procedure. There are two slightly different messages that may be displayed.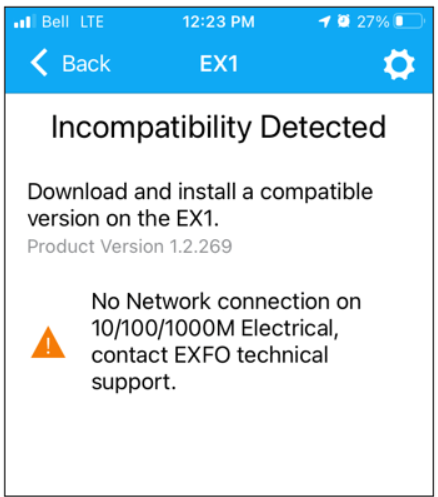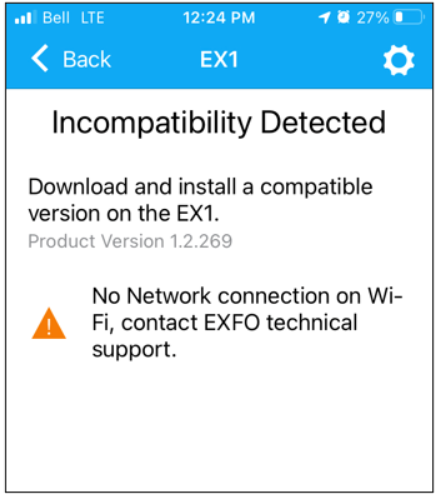 The EXFO EX1 will download and install a software update once the EXFO EX1 mobile application detects a newer EX1 software. The device will need to be connected to an active network to download and install the updates.
Find below the troubleshooting steps specific to the error message displayed. Once a Network connection is enabled, the software download and installation can proceed.
Troubleshooting steps
Possible Cause 1: No Network Connection on 10/100/1000M Electrical
Proposed Solution:
Check Network settings (DHCP, or Static IP)

Ensure network connectivity through the RJ-45 interface

Reset Network Repository to default

Charge the battery to at least 30%
Possible Cause 2: No Network Connection on Wi-Fi
Proposed Solution:
Check Wi-Fi connection

Reset Network Repository to default

Charge the battery to at least 30%
Possible Cause 3: A file or configuration parameter is corrupted
Proposed Solution:
If the above steps do not resolve the problem, you could try performing a "Restore to Factory default settings".

You will find the "Restore to Factory default settings" procedure in the user manual or in the following knowledge article ( Reset EX1 to factory default )

Resetting the EX1 to its default settings/configuration performs the following;




Returns to factory firmware version

Returns to factory default settings

Clears all test reports from the EX1 device memory